Zucchini Involtini
A fancy zucchini and ricotta dish!
Serves 2
Alexandra Cooks
1 hour 20 minutes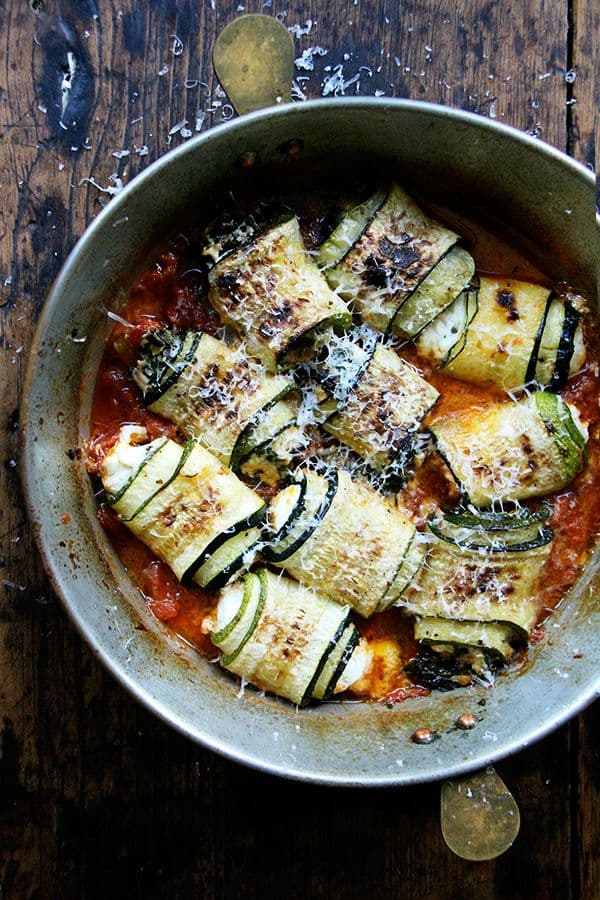 Ingredients
900g zucchini, about 2 large or 2 to 4 medium
2 tablespoon extra-virgin olive oil, plus more for drizzling
Kosher salt
Freshly cracked pepper
10 ounces Swiss chard, optional, leaves removed and finely chopped, stems reserved for another use
1.25 cups ricotta
Zest from one lemon
1 teaspoon fresh thyme leaves, optional, finely chopped
1 to 1.5 cups tomato sauce
Parmigiano Reggiano, for serving, optional
Method
Preheat the oven to 220°C. Line a sheet pan with parchment paper, or rub lightly with olive oil. Trim the stem end of each zucchini. Stand each vertically, and make 1/4-inch thick cuts down to create long slices—these don't have to be perfect. Arrange the slices on the prepared sheetpans. Drizzle the zucchini with the olive oil. Season with salt and pepper. Transfer the pan to the oven and roast for 15 minutes to 20 minutes.
Meanwhile, if you are adding the Swiss chard, in a large sauté pan set over high heat, heat the tablespoon of oil until shimmering. Add the chard leaves, season with a pinch of salt and pepper, and sauté, rearranging with tongs as necessary. Cook the chard for about 2 minutes or until wilted. Remove pan from heat.
To make the filling, in a medium bowl, stir together the ricotta, lemon zest, thyme, if using, and 1/4 teaspoon salt. When chard has cooled briefly, stir it into the ricotta mixture. Taste mixture. Add more salt to taste—I always add more salt … this is your chance to make sure the filling is seasoned properly.
Spoon tomato sauce into a baking dish—the bottom of the dish should be covered in a thin layer. Place a spoonful (about 2 teaspoons) of filling at one end of each of the zucchini slices. Roll the slice into a tight coil and place it seam-side down in the dish on top of the tomato sauce. Drizzle lightly with olive oil. Season lightly with salt and pepper. Transfer to the oven and bake until the sauce has reduced slightly and is bubbling, and the rolls are lightly golden on top, 20 to 25 minutes. If the rolls are still not golden after the 25 minutes, remove the pan from the oven and preheat the broiler. Broil the involtini for about 3 minutes keeping a close watch the entire time.
Remove pan from the oven and shave Parmesan over top if using.
Note: If you have extra ricotta filling, store it in the fridge. It's delicious spread over grilled bread.