Syrian-style stuffed peppers
A delicious spiced pepper dish! 🌶
Serves 3
The Golden Balance
90 minutes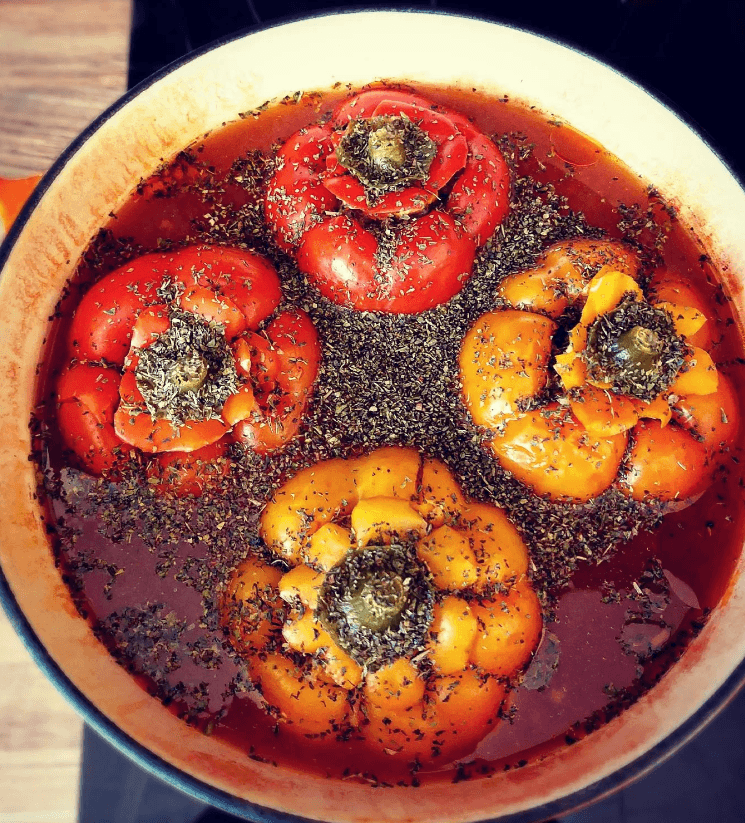 Ingredients
Peppers:
3 large bell peppers
1 cup medium grain rice
2/3 lbs ground beef
1 tsp garlic powder
1 tsp cumin
1 tsp safflower or paprika
1/2 tsp black pepper
1 tsp allspice
1 1/2 tsp salt
2 Tbsp ghee or oil
1/3 cup water
Cooking Liquid:
1/4 cup tomato paste
8 cloves of garlic pounded with 2 tsp salt to make garlic paste
2 lemons, juiced
2 tsp dried mint
Method
Rinse rice over running water until water runs clear. Submerge rice in a bowl of water and soak for 1 hour.
Cut only the top stem off the peppers and reserve, keeping the pepper whole except for just a small hole to stuff in the filling. Carefully remove seeds and ribs from the inside with a small spoon or knife.
Transfer soaked rice into a large bowl. Add ground beef, garlic, cumin, safflower (or paprika), black pepper, all spice, ghee (or oil), water and fully mix by hand.
Fill peppers with the meat mixture. Be careful not to fill it too much, just enough to fill the inside cavity. Cover the top hole with the stems that were cut out.
Place the peppers in a large pot, and add enough water to just come up to the top of the peppers. Add tomato paste, lemon juice and garlic paste to make a broth. If needed, remove the peppers to make sure the broth is fully mixed.
Place the pot on high heat and bring to a boil, uncovered. Reduce heat to low, cover and allow it to simmer for about 1 hour. After 1 hour, sprinkle in dried mint.
Remove the stuffed peppers, being careful not to break the softened peppers, and transfer to a large serving bowl. Pour extra broth into the bowl and enjoy!