Sprout Nasi Goreng
A delicious variation using some local, seasonal veg 🥬
Serves 4
Meera Sodha's cookbook East
45 mins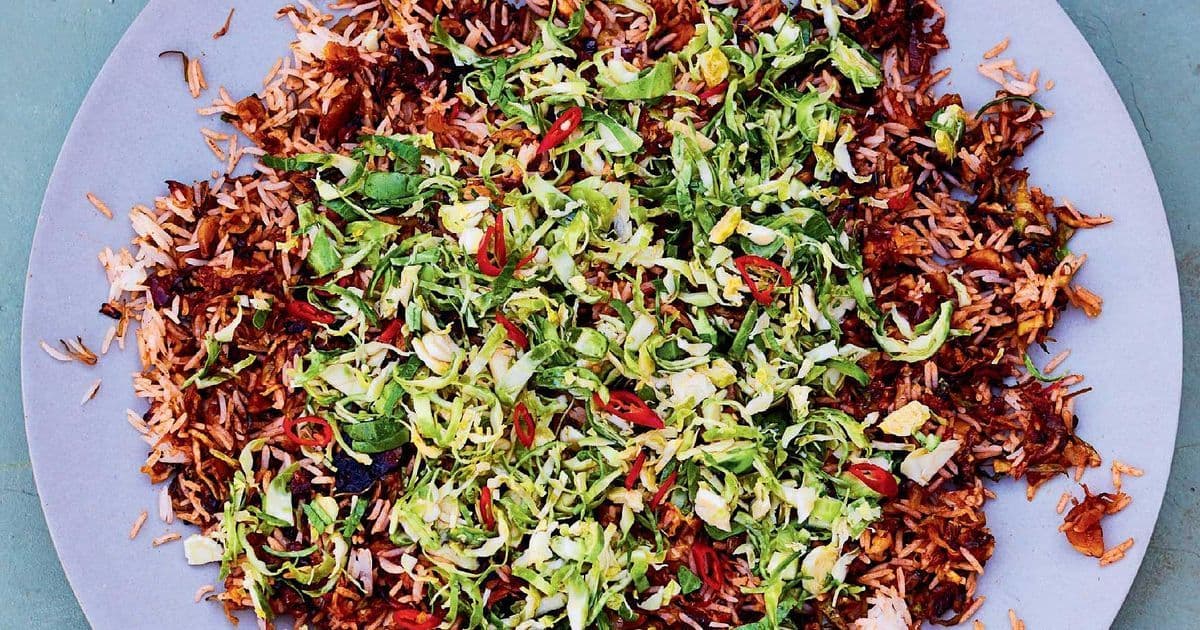 Ingredients
350g rice (also a great way to use up leftover rice!)
3 tbsp oil
1 red onion, chopped
4 cloves garlic, crushed
3 bird's-eye chillies, finely chopped
750g Brussels sprouts, very finely sliced
2 tbsp tomato puree
2 tbsp ketjap manis
1 tsp salt, plus extra to taste
2 tbsp soy sauce
2 tbsp white wine vinegar
2 tbsp sesame oil
1 tsp sugar
Method
Marinate two handfuls (approx. 150g) of the chopped sprouts by putting them in a bowl with 1 tablespoon of soy sauce, 1 tablespoon of vinegar, sesame oil, sugar, and 1 of the chillies, and mixing well. Set aside until the end.
Rinse your rice until the water runs clear. Tip into a pan, add 600ml boiling water, and bring to the boil. Place the lid on, turn the heat down to a whisper and cook for 15 minutes. Take off the heat and leave to steam with the lid on.
Over medium heat, heat the oil in a large frying pan and fry the onion, stirring, for 5 minutes. Add the garlic and two of the chillies, cook for 2 more minutes, then add the unmarinated sprouts. Fry for 8 minutes, stirring occasionally. Then stir in tomato puree, ketjap manis, salt, and a tablespoon each of the soy sauce and vinegar. Cook for another 5 minutes.
Scoop in the steamed rice, folding it in until well mixed. Heat through, stirring gently, for 5 minutes, until the rice is hot, and add salt to taste. Serve with the marinated sprouts on top.