Root Vegetable Tarte Tatin
The prettiest way to use carrots and parsnips! 🥕
Serves 5
Beyond Sweet and Savory
1.5 hours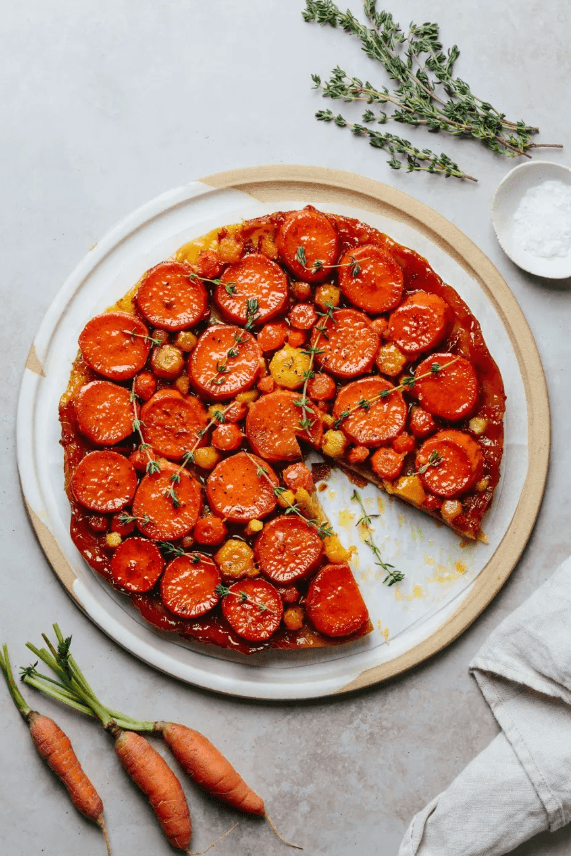 Ingredients
2 medium sweet potato, peeled, sliced into ½" rounds
2 medium carrots, peeled, sliced into ½" rounds
1 medium parsnip, peeled, sliced into ½" rounds
¼ cup olive oil
2 tablespoons thyme leaves and extra for serving
½ teaspoon nutmeg
⅛ teaspoon freshly ground black pepper
½ teaspoon salt
¼ cup sugar
¼ cup water
450g frozen puff pastry, thawed
60g Gruyere, thinly sliced
1 large egg, lightly beaten
Method
Peel and slice the root vegetables into half inch rounds.
Preheat the oven to 400 degrees F.
Toss sweet potato, carrots, parsnip and thyme leaves with oil on a rimmed baking sheet. Season with salt, pepper, and arrange vegetables in a single layer. Roast until golden around the edges and tender, about 20 minutes. Let cool for 10 minutes.
While the vegetables are roasting, unfold puff pastry sheet and cut into a 10-inch round.
Prick dough all over with a fork. Put it in the freezer for 15 minutes until ready to use.
To make the caramel, add sugar and water in a 10 inch oven safe saucepan and cook over medium heat, swirling pan gently (do not stir) until sugar melts and becomes amber-colored, about 10 minutes.
Arrange sweet potatoes, carrots, and parsnips snugly in a single layer on top of caramel, using smaller carrot and parsnip pieces to fill in any holes.
Place sliced Gruyere cheese over vegetables.
Top with puff pastry round, tucking edges into pan. Brush egg wash over puff pastry.
Decrease oven to 375 degrees F.
Place saucepan on middle rack in the oven and bake until the puff pastry is crispy and golden-brown, about 40 minutes.
Remove tarte tatin from the oven, let stand for 5 minutes
Run a knife around the pastry to loosen it from the pan. Place a kitchen towel below where you want to flip the tarte tatin. Invert a large plate over the top of the skillet and, using oven mitts, carefully and quickly flip the tarte tatin onto the plate.
Rearrange any vegetables that may have fallen out of place. Garnish with the thyme sprigs, additional salt and pepper if desired. Cut into wedges and serve immediately.