Roasted Parsnip Salad
A fresh way to upgrade your parsnips! 🥗
Serves 3
Girl Gone Gourmet
30 minutes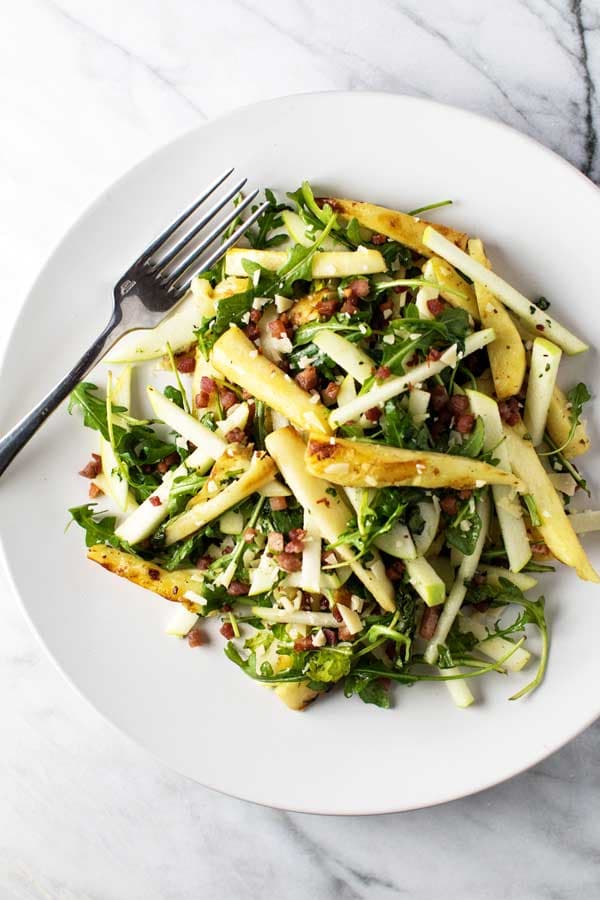 Ingredients
For the salad
4 ounces (113 grams) diced pancetta, or bacon pieces
1 tablespoon olive oil
3 large parsnips, peeled and cut into sticks
½ tablespoon kosher salt
4–5 handfuls of arugula
1 green apple, cut into matchsticks
1/4 cup grated Parmesan cheese

For the dressing
Juice from ¼ lemon
1 tablespoon olive oil
Couple pinches of kosher salt
Method
Preheat oven to 425 degrees.
In a large oven-safe pan cook the pancetta over medium heat until it's rendered its fat. Remove the pancetta leaving the fat in the pan. Add a tablespoon of olive oil and the parsnips. Spread them in a an even layer, sprinkle with salt, and let them cook for a minute or two before giving them a stir. Once they've started to turn golden transfer the pan to the oven and roast them for 15-20 minutes, or until fork tender.
While the parsnips are roasting, make the salad. In a large bowl whisk the lemon juice, olive oil, and salt until combined. Add the arugula and gently toss until it's coated with the dressing. Add the apple and toss again.
When the parsnips are roasted let them cool a few minutes before adding to the salad. Add the grated Parmesan and crispy pancetta, toss, and serve.