Pear Ginger Cake
Autumn in cake form 🍐🍁
Serves 4
Justine Doiron
15-20 minutes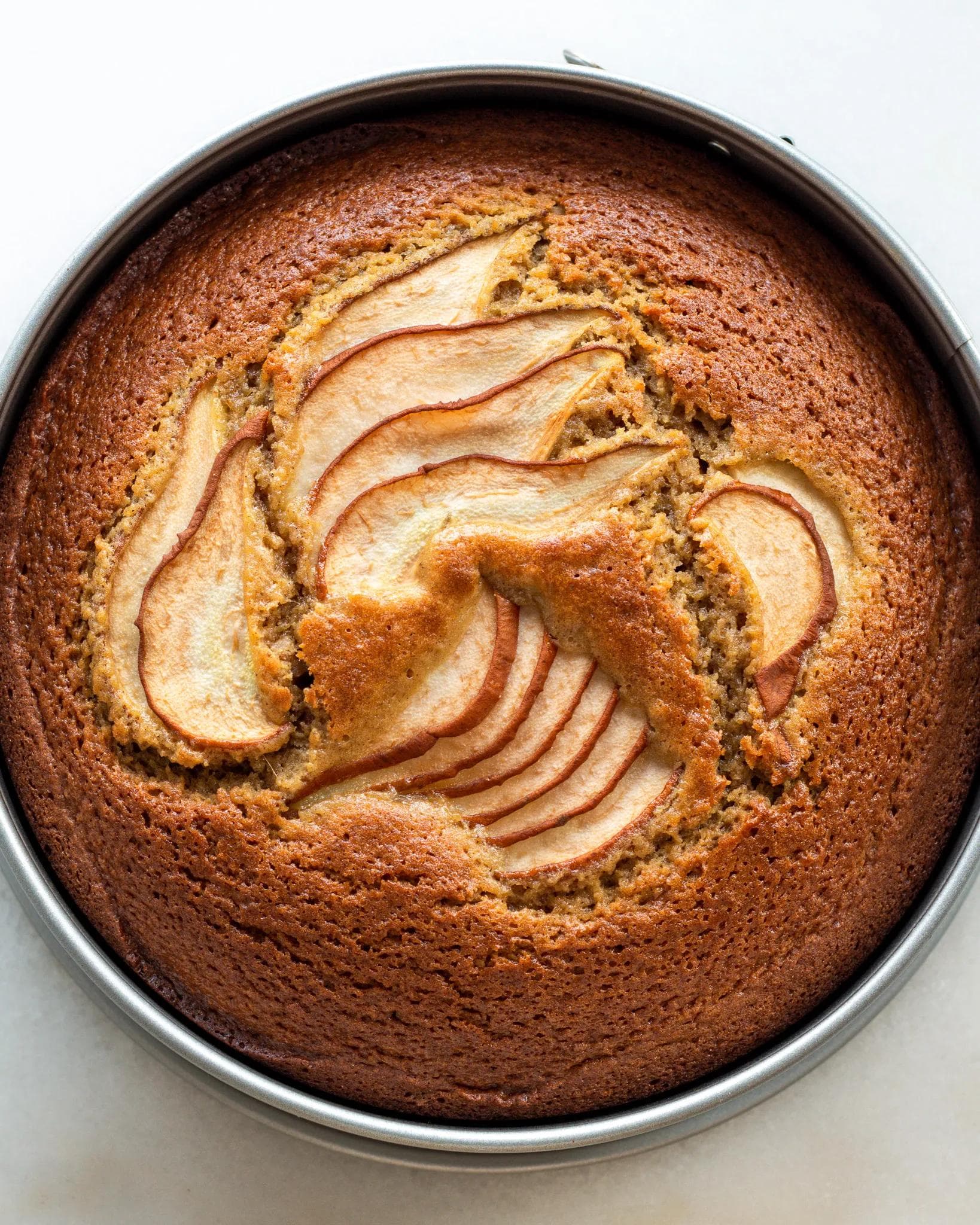 Ingredients
4 large eggs
2 pears (or approx. 275 grams, plus a few slices for topping)
1 inch fresh ginger, peeled
1 cup (200g) neutral oil
1 cup (220g) white sugar
1 cup (135g) dark brown sugar, lightly packed
2 cups (280g) flour
2 tsp baking powder
1 tsp salt
1 tsp cinnamon
1/2 tsp each of allspice and clove
Caramel sauce (optional):
1/2 cup (110g) sugar
2 tbsp water
3 tbsp salted butter
1/4 cup heavy cream
Pinch of salt
Method
Preheat the oven to 180C.
Whisk the eggs in a large bowl. Grate in the pear and ginger using a microplane or fine grater - it should look like applesauce. Whisk in the oil and sugars until smooth.
In another small bowl, whisk together the dry ingredients. Add half into the wet ingredients, mix until smooth, then repeat with the other half.
Grease or line a 22cm cake tin. Pour in the batter.
If you have any leftover pear, cut it into slices and place gently on top of the batter. Bake for 55-60 minutes or until the cake is deeply golden and a toothpick comes out clean!
For the optional caramel drizzle:
Add sugar and water to a (sauce)pan and stir. Put it on medium heat and let it heat up without stirring until the sugar is fully melted and the mixture is bubbling slightly. This should take about 4-5 minutes.
Use a spatula to brush down the edges and allow it to cook undisturbed again until it turns a golden honey color.
Whisk in the butter one piece at a time.
When the butter is fully combined, remove the pan from the heat and pour in the cream. Continue whisking quickly until a thick caramel forms.
Whisk in the salt and pour into a bowl to cool for 5-10 minutes.