Crispy Mushroom Pancakes
For too long, vegans have been made to go without crispy duck pancakes. No more. 🦆
Serves 4
Mob Kitchen
40 mins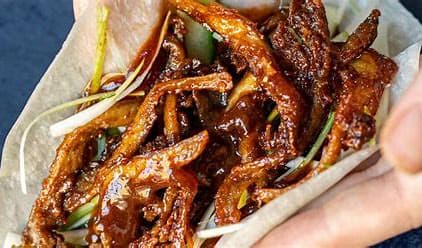 Ingredients
400g King Oyster Mushrooms
3 Tbsp Cornflour
1 ½ Tbsp Chinese Five Spice
1 Cucumber
6 Spring Onions
180g Hoisin Sauce
12 Chinese Pancakes
Salt
Vegetable Oil
Method
Tear your mushrooms into shreds with your hands. Toss them in a bowl with your cornflour, five spice and pinch of salt, then toss to coat.
Heat a generous glug of vegetable oil in a frying pan. Add ¼ of your mushrooms, then fry for a few mins until crispy. You may need to flip them over. Remove from the pan and drain on a tray lined with kitchen paper, then continue with your remaining mushrooms.
Add 2 tbsp of your hoisin sauce to your mushrooms, and toss to coat.
Julienne your cucumber and spring onions.
Warm up your Chinese pancakes.
Serve your crispy mushrooms with your remaining hoisin sauce, cucumber and spring onions in your pancakes.