Confit oyster mushrooms with lemon aïoli
Delicious starter
Serves 4
Yotam Ottolenghi
1 hour 45 mins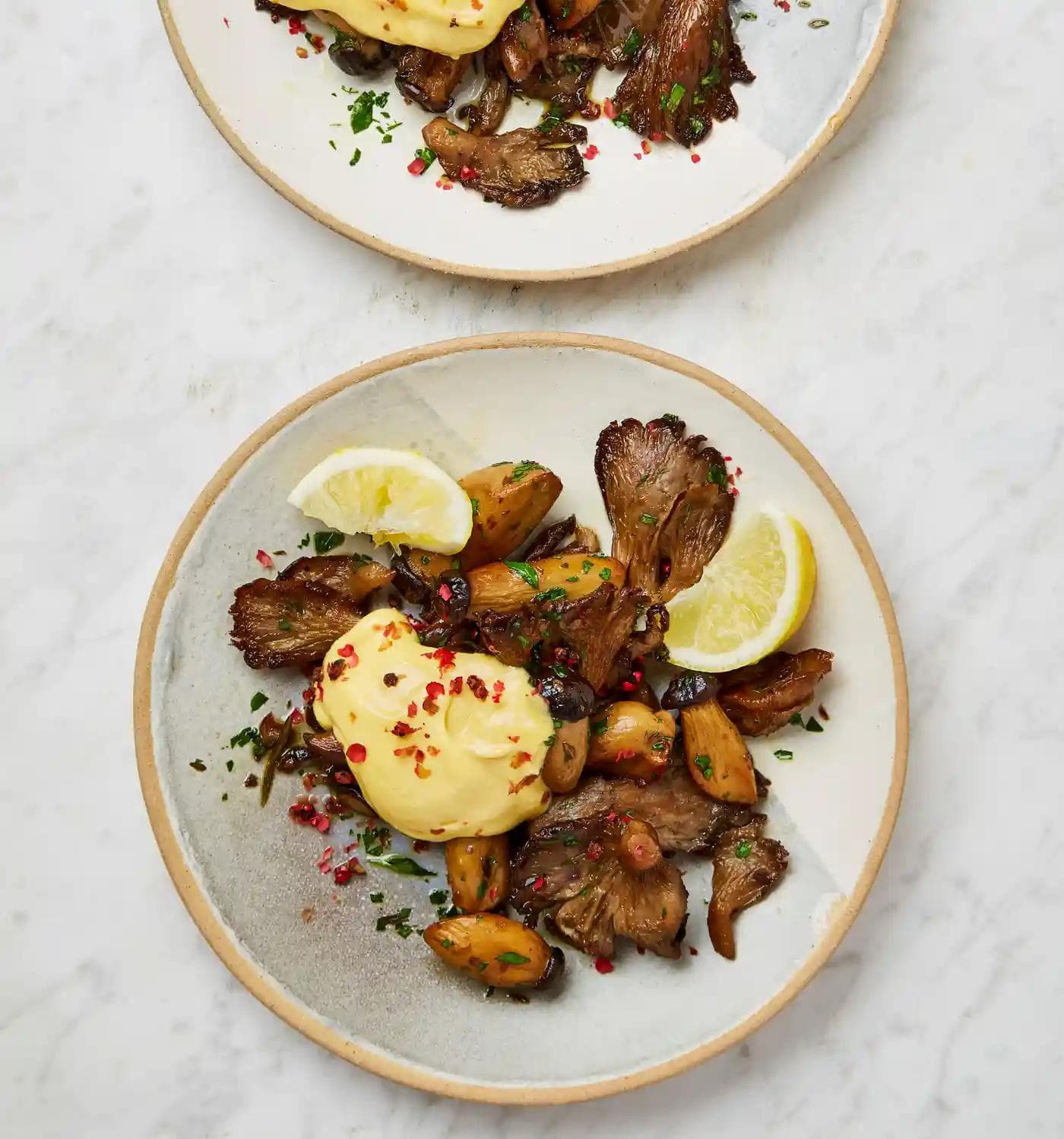 Ingredients
600g oyster mushrooms, roughly torn in half if large
200g baby king oyster mushrooms
10 sprigs fresh thyme
3 large sprigs fresh rosemary
2 bay leaves
1 tsp dried pink peppercorns, lightly crushed, plus ¾ tsp extra, to serve
2 lemons – zest of 1 finely shaved, to get 8 strips, and juiced, to get 1½ tsp, the other cut into 4 wedges, to serve
6 garlic cloves, peeled and bashed with the flat of a knife
Flaked sea salt
600ml olive oil
2 egg yolks
1 tsp dijon mustard
1½ tbsp sunflower oil
1½ tbsp finely chopped parsley
Method
Put the mushrooms in a large saucepan with the thyme, rosemary, bay, crushed peppercorns, lemon peel, five garlic cloves and two teaspoons of flaked salt. Pour over the oil – the mushrooms won't be completely submerged initially – and put on a medium-high heat. Once the oil starts to bubble very gently, turn the temperature to its lowest setting and cook, uncovered, for an hour, stirring occasionally, until the mushrooms are tender. Strain off 100ml of the oil and set aside to cool, so it can be used in the aïoli.
Strain the mushrooms through a sieve, reserving the remaining cooking oil but discarding the bay leaves, lemon peel and any large herb sprigs. (If you're not eating the mushrooms straight away, transfer them to a clean glass jar, along with all the remaining oil and aromatics, and refrigerate for up to four days.)
To make the aïoli, put the remaining garlic clove in the small bowl of a food processor with the egg yolks, mustard, lemon juice and half a teaspoon of flaked salt. Blend to a smooth paste and, with the motor running, add the sunflower oil in a slow, steady stream, followed by the cooled mushroom cooking oil, until the mix emulsifies into a thick mayonnaise.
To finish, put a large saute pan on a high flame and, once it's very hot, add half the drained mushrooms and a tablespoon and a half of their cooking oil, and fry for about five minutes, until golden in places. Stir through half the parsley, then transfer to a bowl and repeat with the remaining mushrooms, another tablespoon and a half of their oil and the remaining parsley.
Spoon the mushrooms on to four plates, top with a generous spoonful of aïoli, sprinkle over a pinch of crushed pink peppercorns and serve with the lemon wedges alongside.