Beetroot Hummus
A no-nonsense recipe with no need to cook anything 🎉
Serves 4
BBC Good Food
15-20 mins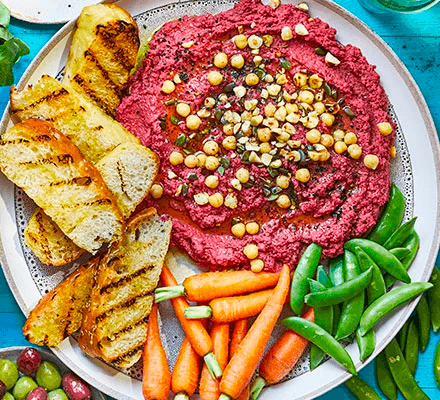 Ingredients
Hummus
400g tin chickpeas, drained and rinsed
300g pack cooked beetroot
1 garlic clove
1 tbsp tahini
50ml olive oil
lemon juice
Toppings (optional, use whatever you like!)
1 tbsp toasted hazelnuts, roughly chopped
1 tbsp pumpkin seeds, roughly chopped
1 tsp nigella seeds
1/2 tsp sumac
pinch chilli flakes
Method
Set aside 1 tbsp of chickpeas. Then blend everything else - other than the toppings - in a food processor until smooth, with a pinch of salt. Add a little more salt or lemon if it needs it.
Chill the hummus until you want to serve it, then top it with a drizzle of olive oil, the remaining chickpeas, and your toppings!
Serve with whatever you like - we recommend carrot or cucumber sticks, warm toasted bread (especially Turkish or pita bread), or falafel!