Beetroot Burger with Homemade Fries
A colorful homemade veggie burger! 🍔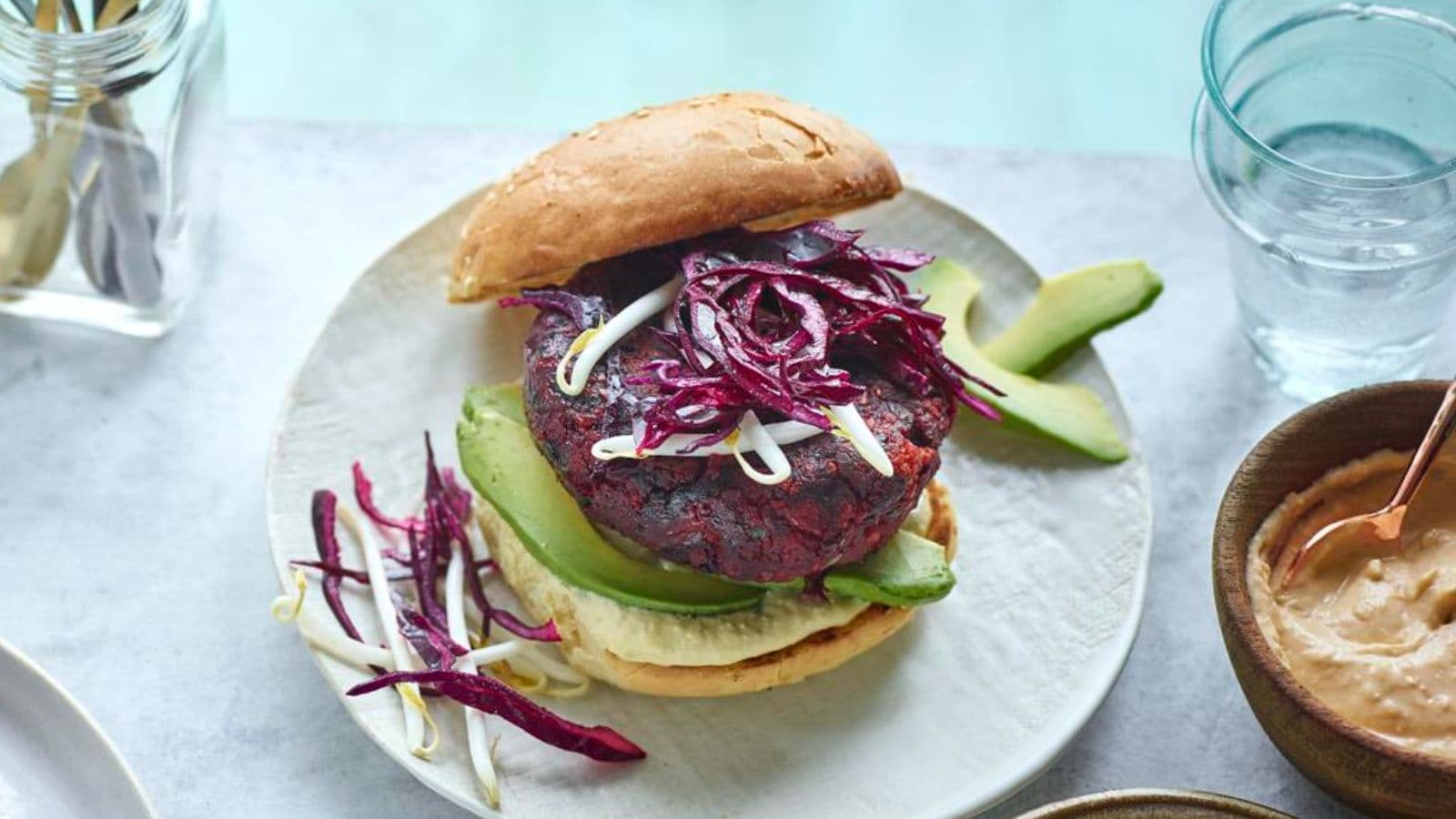 Ingredients
3 tbsp olive oil
1 red onion, finely chopped
2 garlic cloves, crushed
2 raw beetroots, peeled and grated
1 courgette, grated
2 large carrots, peeled and grated
100g porridge oats
400g tin chickpeas, drained
3 tbsp tahini
1 large free-range egg yolk
4 spring onions, thinly sliced
3 tbsp finely chopped fresh coriander
sea salt and freshly ground black pepper

To serve:
6 burger buns
230g hummus
2 avocadoes, sliced
1/2 red cabbage, shredded
For the fries:
6 potatoes
Smoked paprika powder
Salt
A generous drizzle of oil
Method
To make the beetroot burger, heat 1 tablespoon of the oil in a large frying pan over a medium heat. Fry the onion and garlic for 4–5 minutes, or until soft. Add the grated vegetables and cook, stirring often, for 5 minutes, or until soft. Drain away any excess liquid released by the vegetables.
Place the oats, chickpeas, tahini and egg yolk in a food processor and pulse to combine. Tip the mixture into a bowl and stir in the grated vegetables, spring onions and coriander. Season generously with salt and pepper.
Divide the mixture into six and shape into burgers. Cover and refrigerate for at least 30 minutes (or up to 24 hours).
Meanwhile, make the fries. Peel or wash the potatoes, then cut them into fry shapes. Coat with oil, salt, and smoked paprika. Then bake them for 30 minutes at 230C, stirring every 10-15 minutes, until crispy.
Heat 2 tablespoons oil in a frying pan over a medium heat. Cook the burgers, in batches if necessary, for 2–3 minutes on each side, or until golden and hot through.
To serve, lightly toast the buns and top each base with hummus, avocado, red cabbage, a beetroot burger and the bun lid. Serve with fries on the side.