Apple and pear turnovers
A delicious picnic snack!
Serves 8
Katie's Cucina
15 minutes to prep + 30 minutes in the oven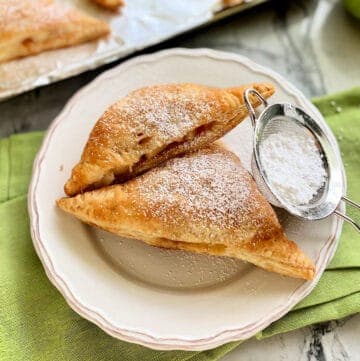 Ingredients
1 apple, peeled & diced
1 pear, peeled & diced
¼ cup brown sugar
¼ teaspoon cinnamon
dash of nutmeg
¼ teaspoon almond extract
1 tablespoon all purpose flour
pinch salt
2 Puff pastry sheets, thawed
1 egg
1 tablespoon Powder Sugar
Method
Preheat oven to 180 degrees Celsius.
In a bowl, combine diced apple, pear, brown sugar, cinnamon, nutmeg, almond extract, salt, and flour. Mix well until incorporated.
Roll out one piece of puff pastry on to a greased aluminum foil or a parchment lined baking sheet. Using a bench knife (or sharp pairing knife) cut the puff pastry at a diagonal (you'll have 2 large triangles). Then cut it again so you'll have 4 triangles.
Add ¼ cup filling to one triangle. Carefully fold the triangle over, seal with water, then press the tines of the fork to close the dough. Repeat until all the turnovers are created.
Use the remaining liquids from the apple pear mixture, mixed with the egg, and brush on top of the puff pastry pockets. Make a small slit on the top of each of the turnovers, so the heat can escape while baking.
Bake at 180 degrees for 30 minutes or until golden brown. Sprinkle with powder sugar and enjoy immediately.