Team visit to De Clique HQ
We were invited to see where the oyster mushrooms are grown 🍄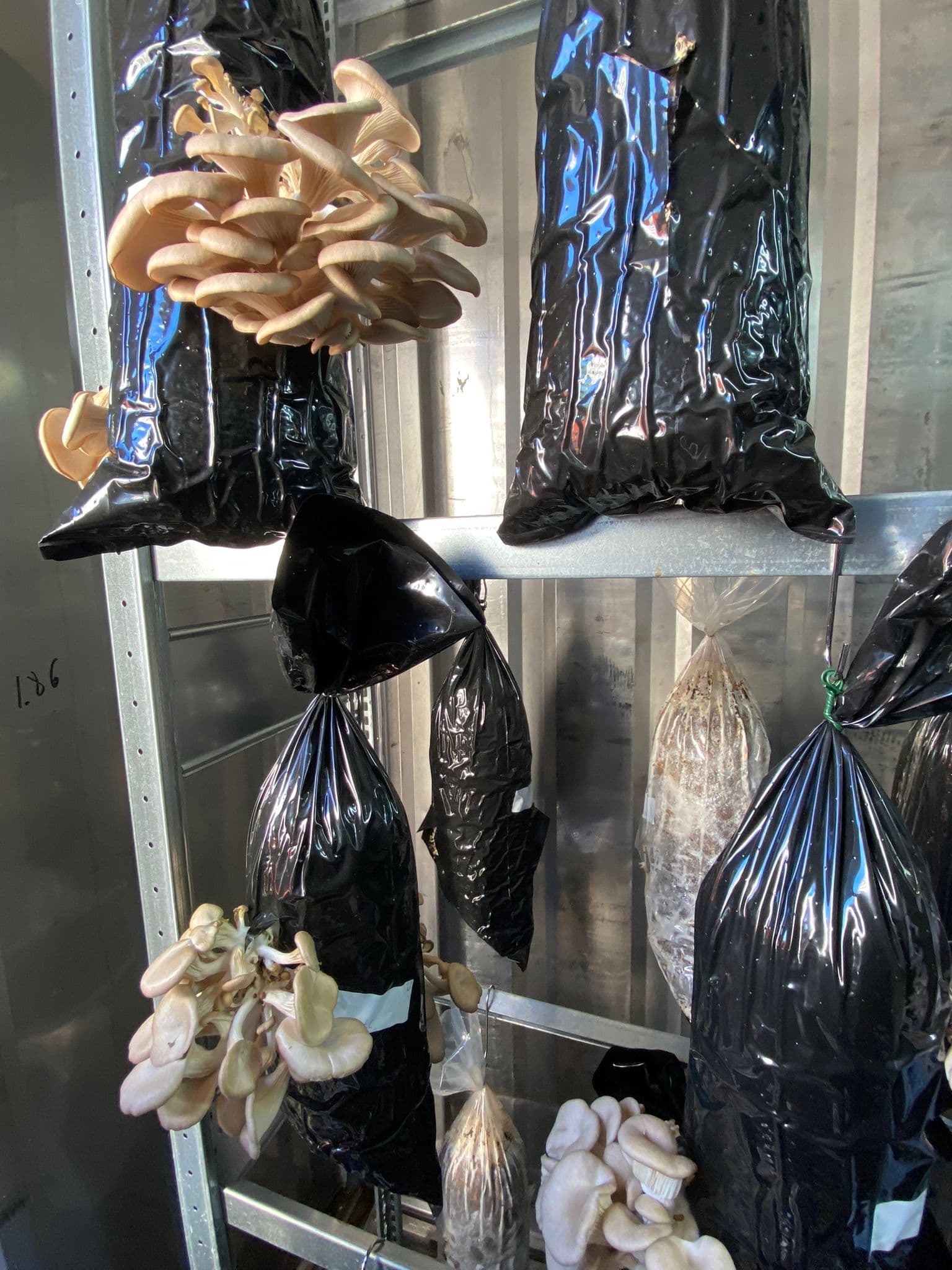 An essential component of Groentetas is providing you with the opportunity to purchase tasty, locally grown mushrooms alongside the well-known vegetable bags. We source oyster mushrooms from De Clique, a leading organisation in the growth of mushrooms from recycled coffee grounds. Although we handle these beautiful bunches of mushies on a weekly basis, none of our board had ever visited the headquarters of our supplier. Therefore, in January we took a trip to the north of Utrecht to learn more about the magic behind these fascinating mushies.
During our visit we explored the nursery where the oyster mushrooms are grown and harvested, as well as learned more about De Clique's upcoming projects. The coffee grounds used to grow the mushrooms are sourced from a variety of companies, educational institutions, and hospitals throughout Utrecht, including Utrecht University. This concept of circularity ensures that the waste from coffee machines is repurposed for the growth of new, and edible, products. De Clique produces their oyster mushrooms in three containers with regulated temperature and humidity. From the outside they appear to be regular shipping containers, but on the inside an entire nursery of oyster mushrooms spans from floor to ceiling! The growth of these mushies involves bags containing coffee grounds and spores to promote oyster mushroom development. While it may appear to be a simple process, employees of De Clique have completed extensive research and trials to ensure the best conditions for optimal mushrooms. The oyster mushrooms that we sell are also distributed to restaurants throughout Utrecht, and are even available as vegan croquettes at places such as Tuincentrum Steck.
In addition to oyster mushrooms, De Clique has various other fascinating projects that emphasize the concept of circularity. One of their leading developments is the production of focaccia bread using recycled orange peels. Moreover, they are involved in providing recovered raw materials to create tea blends and soft drinks. While these circular products are a major component of their work, De Clique also allocates a large portion of time towards researching different composting techniques. At their headquarters they have a selection of small vegetable and fruit patches using the compost that they have produced.
It was an insightful experience to explore the source of our oyster mushrooms and learn more about the complex processes involved in their production. If you are ever interested in learning more about De Clique, they offer tours of their headquarters for a feasible price! Furthermore, they host various students for internships and research positions related to their core aims in circularity, carbon neutrality, and organic waste management. The link to their website is included below in case you wish to learn more about this great initiative.